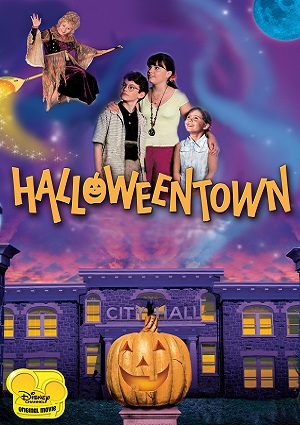 Movie Summary
On her 13th birthday, Marnie learns she's a witch. She discovers a secret portal and is transported to Halloweentown – a magical place where ghosts, ghouls, witches and werewolves live apart from the human world. But she soon finds herself battling wicked warlocks, evil curses, and endless surprises.
This movie normally airs in October as part of Disney Channel's Monstober.
Is it available to purchase or rent?
Yes, Halloweentown is available to stream on the following platforms:
It is also available to buy on DVD at Amazon.
2022 Dates, Times, and Channels
10/02/22 – 10:10am on Freeform
10/06/22 – 7:00pm on Freeform
10/20/22 – 3:00pm on Freeform
10/25/22 – 3:00pm on Freeform
This movie normally airs throughout the holiday season on the Freeform Channel. For a complete schedule of dates and times, please click here.
Year Released
1998
Cast Includes
Debbie Reynolds (Aggie Cromwell), Judith Hoag (Gwen), Kimberly J. Brown (Marnie), Phillip Van Dyke (Luke), Robin Thomas (Kalabar), Joey Zimmerman (Dylan), Emily Roeske (Piper), Rino Romano (Benny), Judith M. Ford (Harriet)
Rate Movie:
Movie Trailer