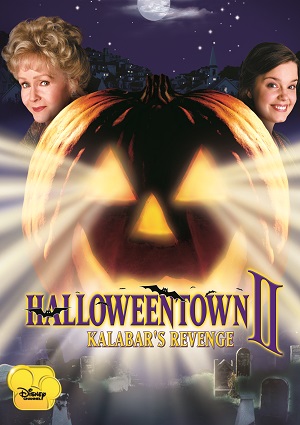 Movie Summary
The Cromwell clan split their time between the real world and "Halloweentown", but the son of an old rival threatens to make the latter "real" and the real world a place of monsters.
This movie normally airs in October as part of Disney Channel's Monstober.
Is it available to purchase or rent?
Yes, Halloweentown II is available to stream on the following platforms:
It is also available to buy on DVD at Amazon.
2022 Dates, Times, and Channels
10/06/22 – 9:00pm on Freeform
10/20/22 – 5:00pm on Freeform
10/26/22 – 12:00pm on Freeform
This movie normally airs throughout the holiday season on the Freeform Channel. For a complete schedule of dates and times, please click here.
Year Released
2001
Cast Includes
Debbie Reynolds (Aggie Cromwell), Judith Hoag (Gwen), Kimberly J. Brown (Marnie), Daniel Kountz (Kal), Joey Zimmerman (Dylan), Emily Roeske (Sophie), Phillip Van Dyke (Luke), Blu Mankuma (Gort), Peter Wingfield (Alex), Richard Side (Benny)
Rate Movie:
Movie Trailer