Nickelodeon reveals trailer for new Halloween movie, A Really Haunted Loud House, premiering September 28th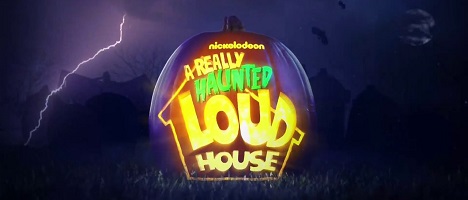 Just in time for Halloween, Nickelodeon revealed the trailer for its brand-new original feature-length movie, A Really Haunted Loud House. In celebration of the spookiest season, the Louds return with their annual Halloween Spooktacular filled with frightful tricks, delightful treats, spellbinding costumes and original music. A Really Haunted Loud House will be available to stream beginning Thursday, September 28th, on Paramount+ and premiere on Nickelodeon that same evening at 7pm (ET/PT).
In A Really Haunted Loud House, Lincoln Loud and his best friend Clyde skip the Loud family's Halloween Spooktacular to attend an over-the-top party hosted by the new cool kid at school, Xander, leaving his sisters to plan the annual event and grandiose neighborhood performance, while Dad fights his own demons and avoids being captured by teenage werewolf hunters. When Xander and his mob of followers decide to play tricks and attack the Loud house, Lincoln, his sisters and Clyde must work together to save Halloween, leading to an epic standoff in the town's junkyard.
The cast of The Really Loud House season one will reprise their roles as members of the beloved Loud family in the movie and season two of the series: Wolfgang Schaeffer as Lincoln Loud; Brian Stepanek as Lynn Loud Sr.; Jolie Jenkins as Rita Loud; Eva Carlton as Leni Loud; Sophia Woodward as Luna Loud; Catherine Bradley as Luan Loud; Annaka Fourneret as Lynn Loud; Aubin Bradley as Lucy Loud; Ella Allan as Lola Loud; Mia Allan as Lana Loud; Lexi Janicek as Lisa Loud; Lexi DiBenedetto as Lori Loud; and August Michael Peterson as Lily Loud. Jahzir Bruno plays Lincoln's best friend, Clyde McBride. Martin Fajardo (Now and Then) plays Xander.
A Really Haunted Loud House is directed and executive produced by Jonathan Judge (Life in Pieces, Young Sheldon, A Loud House Christmas). Teleplay is by Tony Gama-Lobo & Rebecca May (Rise of the TMNT) and Tim Hobert (The Really Loud House, The Middle, Scrubs, Community); the story is also written by Gama-Lobo & May. Michael Rubiner (The Loud House) also serves as an executive producer, and the movie is produced by Melanie Kirk and Don Dunn.
Production for Nickelodeon Studios is overseen by Shauna Phelan and Zack Olin, Co-Heads of Nickelodeon & Awesomeness Live-Action. Brittany Cope serves as Nickelodeon's Executive in Charge of Production for the franchise.
Based on the Emmy Award-winning animated show The Loud House and following the success of the hit live-action movie A Loud House Christmas, live-action comedy series The Really Loud House follows middle schooler Lincoln Loud as he goes on new adventures in the town of Royal Woods with his best friend Clyde McBride, while also navigating the chaos of living in a family with ten sisters. Season two of The Really Loud House will feature even more hilarious adventures and premiere in early 2024 on Nickelodeon. Season one can be streamed on Paramount+ starting early 2024.