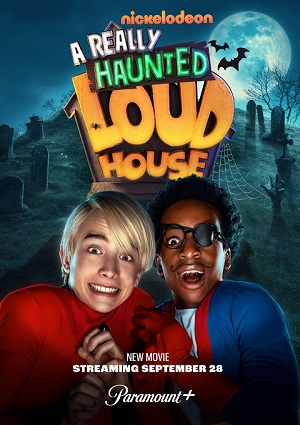 Movie Summary
In A Really Haunted Loud House, Lincoln Loud and his best friend Clyde skip the Loud family's Halloween Spooktacular to attend an over-the-top party hosted by the new cool kid at school, Xander, leaving his sisters to plan the annual event and grandiose neighborhood performance, while Dad fights his own demons and avoids being captured by teenage werewolf hunters. When Xander and his mob of followers decide to play tricks and attack the Loud house, Lincoln, his sisters and Clyde must work together to save Halloween, leading to an epic standoff in the town's junkyard.
A Really Haunted Loud House is a Nickelodeon Original Movie that will premiere September 28, 2023.
Is A Really Haunted Loud House available to purchase or rent?
No
Is A Really Haunted Loud House available to buy on DVD?
No
When will A Really Haunted Loud House air on TV in 2023?
9/28/23 – 7:00pm on Nickelodeon and Paramount+
Year Released
2023
Cast Includes
Wolfgang Schaeffer (Lincoln Loud), Brian Stepanek (Lynn Loud Sr.), Jolie Jenkins (Rita Loud), Eva Carlton (Leni Loud), Sophia Woodward (Luna Loud), Catherine Bradley (Luan Loud), Annaka Fourneret (Lynn Loud), Aubin Bradley (Lucy Loud), Ella Allan (Lola Loud), Mia Allan (Lana Loud), Lexi Janicek (Lisa Loud), Lexi DiBenedetto (Lori Loud), August Michael Peterson (Lily Loud), Jahzir Bruno (Clyde McBride), Martin Fajardo (Xander)
Rate Movie:
A Really Haunted Loud House Movie Trailer
Affiliate Disclosure:
Please note – we do use affiliate links on this site. This means we might earn a small commission if you click on a link and/or buy something. Both the product links and ads displayed help pay to keep this website running so that I can continue to offer schedule updates.
Thank you very much for your support (and for tolerating the ads) - I appreciate it!