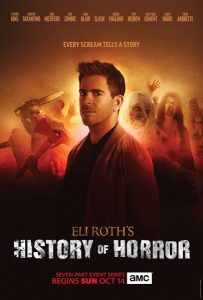 AMC's year-round documentary series AMC Visionaries is making the leap from outer space to your nightmares with Eli Roth's History of Horror. Starting October 14th, The Hostel and The House with a Clock in Its Walls director will produce and host the seven-part series, each episode bringing together iconic horror filmmakers, actors, writers, make-up wizards, and monster maestros to discuss the past, present, and future of film's most bloodcurdling genre.
Names set to appear on History of Horror include Stephen King, Jordan Peele, Jason Blum, Linda Blair, Jamie Lee Curtis, Rob Zombie, Quentin Tarantino, and more. The series will kick off with an episode digging through the guts of the zombie genre, followed by back-to-back installments exploring horror's most stab-happy form, the slasher film. A few films scheduled to be discussed and dissected are Psycho, The Shining, Get Out, Interview With The Vampire, Night of the Living Dead, and plenty more from the classic spookshow canon.
Here is the official synopsis for AMC Visionaries: Eli Roth's History of Horror:
Executive produced by award-winning horror film director, writer, producer and actor, Eli Roth ("Cabin Fever," "Hostel"), the documentary series brings together the masters of horror – the storytellers and stars who define the genre – to explore its biggest themes and reveal the inspirations and struggles behind its past and present.

Each one-hour episode will take viewers on a chilling exploration of how horror has evolved through the eras and impacted society, as well as why loyal fans remain addicted to fear. The series features A-list storytellers including Stephen King, Quentin Tarantino, Jordan Peele, Jason Blum, Robert Englund, Linda Blair, Tippi Hedren, Rob Zombie, Haley Joel Osment, Jack Black, John Landis, Jamie Lee Curtis, Elijah Wood, Slash, Catherine Hardwicke, Norman Reedus among many others.