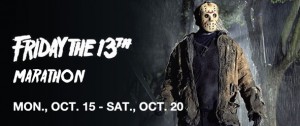 AMC hasn't yet released the full 2012 FearFest schedule, but we do know they will be running a Friday the 13th marathon as part of the annual event. The marathon starts on Monday, October 15, 2012 and runs through Saturday, October 20, 2012.
As soon as we have the complete details, we will post it here.
In the mean time, check the AMC FearFest Schedule to see what's been added so far.