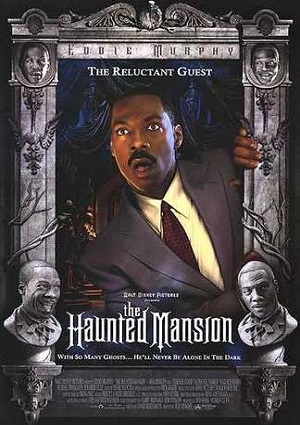 Movie Summary
The Haunted Mansion is a 2003 American supernatural horror comedy film based on the Disney theme park attraction of the same name. A realtor and his wife and children are summoned to a mansion, which they soon discover is haunted, and while they attempt to escape, he learns an important lesson about the family he has neglected.
The 2003 version of The Haunted Mansion was originally released in theaters November 26, 2003.
Is The Haunted Mansion available to purchase or rent?
Yes, The Haunted Mansion is available to stream on the following platforms:
Is The Haunted Mansion available to buy on DVD?
Yes

When will The Haunted Mansion air on TV in 2023?
9/26/23 – 8:00pm on Disney Channel
10/01/23 – 2:50pm on Freeform
10/04/23 – 4:30pm on Freeform
10/13/23 – 12:35pm on Freeform
10/15/23 – 2:15pm on Freeform
10/21/23 – 3:00pm on Freeform
10/25/23 – 9:00pm on Freeform
10/29/23 – 3:10pm on Freeform
10/31/23 – 1:00pm on Freeform
This movie normally airs throughout the holiday season on Freeform. For a complete schedule of dates and times, view Freeform 31 Nights of Halloween schedule.
Year Released
2003
Cast Includes
Eddie Murphy (Jim Evers), Marsha Thomason (Sara Evers), Jennifer Tilly (Madame Leota), Terence Stamp (Ramsley), Nathaniel Parker (Master Gracey), Wallace Shawn (Ezra), Aree Davis (Megan), Marc John Jefferies (Michael), Dina Spybey (Emma)
Rate Movie:
The Haunted Mansion Movie Trailer
Affiliate Disclosure:
Please note – we do use affiliate links on this site. This means we might earn a small commission if you click on a link and/or buy something. Both the product links and ads displayed help pay to keep this website running so that I can continue to offer schedule updates.
Thank you very much for your support (and for tolerating the ads) - I appreciate it!