Halloween II (1981)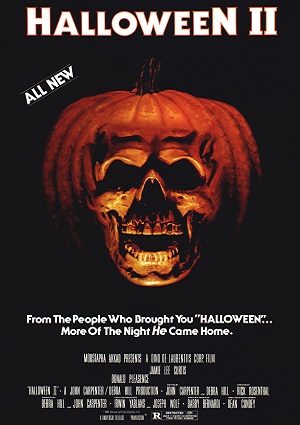 Movie Summary
After failing to kill stubborn survivor Laurie and taking a bullet or six from former psychiatrist Dr. Sam Loomis, Michael Myers has followed Laurie to the Haddonfield Memorial Hospital, where she's been admitted for Myers' attempt on her life.
Is it available to purchase or rent?
Yes

2022 Dates, Times, and Channels
10/01/22 – 10:15am on Syfy
10/13/22 – 5:43pm on Syfy
This movie normally airs throughout the holiday season on the Syfy Channel. For a complete schedule of dates and times, please click here.
Year Released
1981
Cast Includes
Jamie Lee Curtis (Laurie Strode), Donald Pleasence (Sam Loomis), Dick Warlock (The Shape), Charles Cyphers (Leigh Brackett), Jeffrey Kramer (Graham), Lance Guest (Jimmy), Pamela Susan Shoop (Karen), Hunter von Leer (Gary Hunt), Leo Rossi (Budd)
Rate Movie:
Movie Trailer