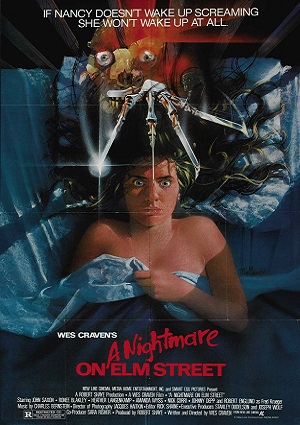 2019 Dates, Times, and Channels
10/02/19 – 9:00pm on Syfy
10/03/19 – 4:58pm on Syfy
10/19/19 – 7:00pm on Syfy
10/20/19 – 3:30pm on Syfy
10/29/19 – 5:00pm on Syfy
10/30/19 – 2:00am on Syfy
Movie Summary
On Elm Street, Nancy Thompson and a group of her friends including Tina Gray, Rod Lane and Glen Lantz are being tormented by a clawed killer in their dreams named Freddy Krueger. Nancy must think quickly, as Freddy tries to pick off his victims one by one. When he has you in your sleep, who is there to save you?
This movie normally airs in October as part of AMC FearFest.
Is it available on DVD?
Yes.

Year Released
1984
Cast Includes
Heather Langenkamp, Johnny Depp, Robert Englund
Rate Movie:
YouTube Clips