It should come as no surprise that someone whose Mother runs a Halloween themed website, would ask for a Halloween themed wedding. We went with a "Nightmare Before Christmas" meets "Haunted Mansion" feel. Here are some pictures of the reception (taken October 2018).
Nightmare Before Christmas inspired wedding cake
We hired a local cake decorator to make this beautiful cake based off a cake we saw on Pinterest. It's a layered cake (various chocolate flavors) with a buttercream frosting.
On each side of the cake are these cool black candelabras that I found at Pier 1.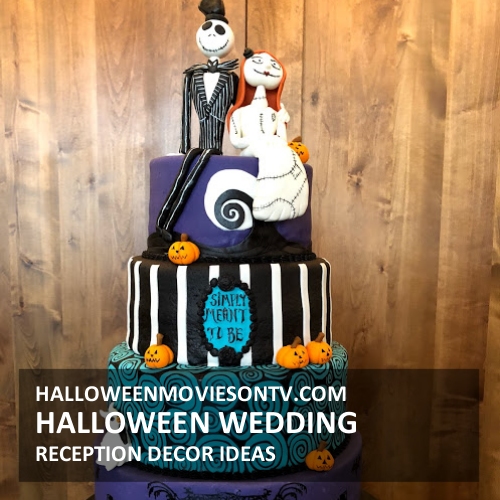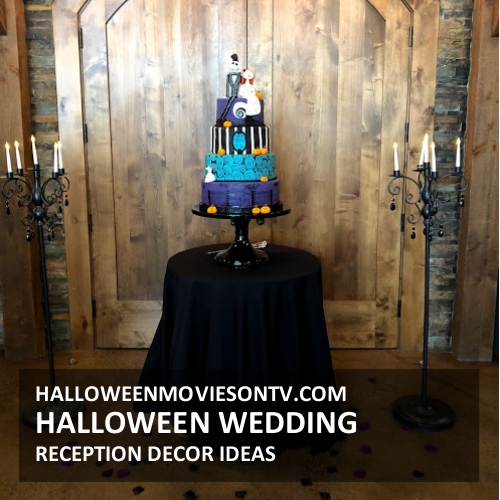 Purple witches brew (aka punch)
This is a super easy recipe that cost about $100 for approximately 120 servings.
2 liter grape soda
2 liter lemon lime soda
1 46oz can pineapple juice
We mixed all of the above and used dry ice for the "brew" affect. FYI we did try a recipe using grape juice. It gave a darker purple look, but we preferred the taste of the grape soda.
Black pumpkin centerpieces
These turned out beautiful. Expensive, but beautiful. I really felt like they would be a part of Sally's flower garden if she had one. Each centerpiece (I made 10) included:
Black foam pumpkin (bought these on sale at Michael's)
Black Halloween tree (Target)
Various black leaves (Michael's)
Various roses, flowers, and other pieces (AC Moore)
Miniature black and black/white striped foam pumpkins (bought these at Walmart, the striped ones I hand painted)
Black and white striped battery operated taper (Michael's)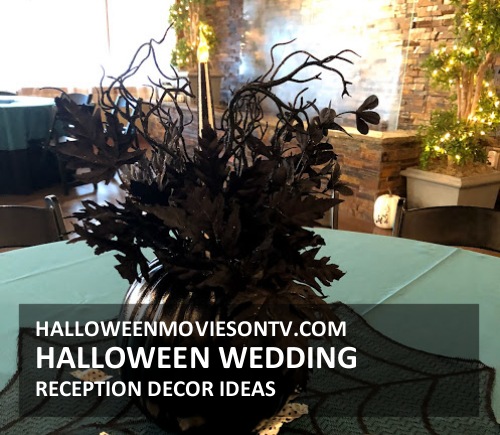 Guest tables were layered as follows:
Black floor length linen
Purple or teal linen
Black crochet spider web (Amazon)
Black pumpkin centerpiece
Black and white mints (Amazon)
Haunted staircase
When we first visited the venue and I saw the staircase, I immediately thought: HAUNTED MANSION. Here is what I used to decorate this massive area…
Black lanterns with battery operated candles (AC Moore and Amazon)
Green ?? that I spray painted black (Oriental Trading Co)
Back and white foam pumpkins (Smiths and Walmart)
Black and white bows I made from wire ribbon
At the top of the stairs, I put up three small tables and covered them with black linens. The middle table has a black candelabra (found at Pier 1 – matches the ones by the cake above) and small black cauldrons (Crate and Barrel) filled with candy. The other tables have black battery operated candles (Amazon) and candy as well.
Black pumpkin card "collector"
I bought this large black foam pumpkin at AC Moore, cut out the top and put "cards" in vinyl lettering on the front. Really easy to make and it fit the theme perfectly.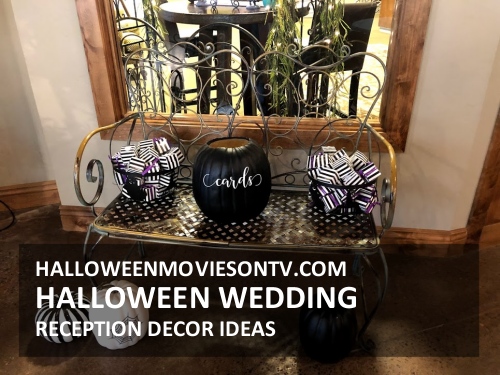 Halloween candy wedding favors
I found these cute black and white striped boxes (Amazon) and filled them with purple and black Hershey Kisses and Reeces peanut butter cups. I lucked out because this year Walmart was selling Kisses and Reeces with Halloween wrappers!
For food we served "finger foods" including vegetable trays, mummy pretzels, and tortilla rolls.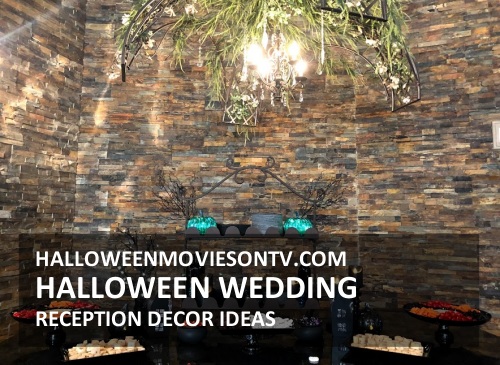 If you have any questions at all, let me know below 🙂