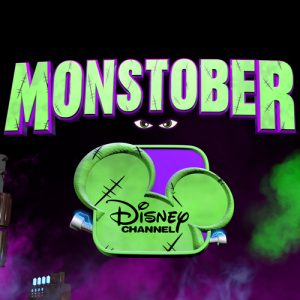 The cast of Disney Channel's new live-action series "BUNK'D" will host "Monstober," the channel's month-long Halloween celebration, beginning THURSDAY, OCTOBER 1st 2015. The programming event includes the premiere of the Disney Channel Original Movie "Invisible Sister," FRIDAY, OCTOBER 9 (8:00 p.m., ET/PT), a "Descendants" Mal-oween marathon and Halloween-themed episodes with a twist. Disney Channel stars will swap series as guest stars on each other's sitcoms, making appearances at the same haunted house in New York City for the big Central Park Spooktacular celebration, with a masked mystery character appearing in each telecast.
Throughout the month, fan-favorite Halloween movies will be presented. Some of them include "Halloweentown," "Halloweentown II: Kalabar's Revenge," "Twitches," "My Babysitter's A Vampire," and the "Monstober" premiere of Disney·Pixar's "Monsters University" on SUNDAY, OCTOBER 11th (8:00 p.m., ET/PT).
The "Monstober" schedule is as follows (all times ET/PT):
FRIDAY, OCTOBER 2:
8:00 pm – "Jessie" "The Ghostess with the Mostest" – When Jessie makes the Ross kids bring Stuart along for trick-or-treating, he tells them a haunting story about Abigail, a ghost who is out to get them. One by one, the kids mysteriously disappear. Then, Jessie attends a masquerade party and meets a mysterious boy who she falls for. Guest-Starring "I Didn't Do It's" Austin North and Sarah Gilman
8:30 pm – "Girl Meets World" "Girl Meets World of Terror 2" – Riley and Maya meet the ghost of the bay window, who happens to be a flapper girl from the 1920's. Guest-Starring "Austin & Ally's" Ross Lynch and Laura Marano
9:00 pm – "I Didn't Do It" "Bite Club" – When Logan and Delia go to NY for a Science Presentation as Marie Antoinette and Albert Einstein, they run into "Austin & Ally's" Trish and Dez and a crazy fortune teller at the city's biggest Halloween party. Meanwhile, Betty enlists Garrett to take her nephew Kevin trick-or-treating, and the two turn the tradition into a major candy scam. Guest starring "Austin & Ally's" Raini Rodriguez and Calum Worthy
9:25 pm – "Mickey Mouse" "Black and White" – Mickey attempts to save face in front of Minnie after he's scared as white as a ghost.
SUNDAY, OCTOBER 4:
8:00 pm – "K.C. Undercover" "All Howl's Eve" – Ernie and Judy must travel to NYC for the Central Park Spooktacular to intercept an evil wolf serum, but their mission is interrupted when they run into "Jessie's" Emma and Zuri at the party. Meanwhile, Marisa and K.C. throw their own Halloween bash back at the house, and K.C. decides to dress up as a spy to impress the new boy in school, River. Guest starring "Jessie" and "BUNK'D"s Peyton List and Skai Jackson
8:30 pm – "Best Friends Whenever" "Cyd and Shelby's Haunted Escape" – Cyd and Shelby use Barry's new invention to teleport themselves to NYC's Central Park Spooktacular and wind up getting trapped in a Haunted House with "Girl Meets World"s Riley and Lucas. Guest starring "Girl Meets World"s Rowan Blanchard and Peyton Meyer
9:00 pm – "Austin & Ally" "Scary Spirits & Spooky Stories" – While visiting New York, the group attends the Central Park Spooktacular party, which inspires them to tell their own scary stories. Guest starring "K.C. Undercover"s Kamil McFadden and Trinitee Stokes
9:30 pm – "Liv and Maddie" "Haunt-A-Rooney" – Maddie and Willow prepare for "Senior Scare," a Ridgewood tradition where the high school seniors scare the middle schoolers. Meanwhile, when Joey and Liv are at the Central Park Spooktacular, Liv falls into a precarious predicament with a photographer. In an effort to fix the mishap and create a diversion, Liv enlists her fans, Cyd and Shelby, to help pull off a flash mob. Guest starring "Best Friends Whenever"s Landry Bender & Lauren Taylor
FRIDAY, OCTOBER 9:
8:00 pm – "Invisible Sister" The Disney Channel Original Movie "Invisible Sister" follows science prodigy Cleo, whose class experiment turns her popular sister and star athlete, Molly, invisible. With the help of Cleo's best friend and fellow science enthusiast, George; and her crush, Carter; Molly's boyfriend, The Coug; and her best friend and teammate, Nikki; the sisters race against the clock on Halloween to find the antidote to reverse Molly's invisibility before it becomes permanent. Starring Rowan Blanchard ("Girl Meets World"), Paris Berelc ("Mighty Med"), Karan Brar ("BUNK'D," "Jessie"), Rachel Crow ("X Factor"), Will Meyers ("Bella and the Bulldogs") and Austin Fryberger ("Kirby Buckets")
SUNDAY, OCTOBER 11:
8:00 pm – Disney·Pixar's "Monsters University"
FRIDAY, OCTOBER 23:
6:00 pm – 10:00 pm – MAL-OWEEN marathon featuring favorite "Liv & Maddie" episodes and encore presentations of the Disney Channel Original Movie, "Descendants," the "Descendants: Set It Off!" special and "Descendants: Wicked World" animated shorts
THURSDAY, OCTOBER 29:
9:00 am – 10:00 pm – Spooks & Chills marathon featuring encore presentations of Halloween-themed episodes