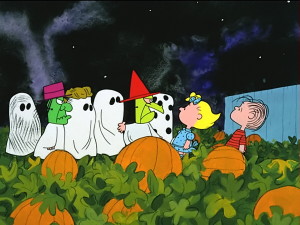 ABC is getting into the spirit with Charlie Brown and the Toy Story gang this October!
Tuesday, October 20, 2015
8:00pm ET
"It's the Great Pumpkin, Charlie Brown" — The classic animated Halloween-themed  PEANUTS special, "It's the Great Pumpkin, Charlie Brown" (OAD on ABC 10/30/01),  created by late cartoonist Charles M. Schulz, as well as a bonus PEANUTS  cartoon, "You're Not Elected, Charlie Brown," in which Linus runs for class  president. The program will air with Spanish audio via SAP. In the 1966 animated  special "It's The Great Pumpkin, Charlie Brown," The PEANUTS gang celebrates  Halloween with Linus, hoping that finally, he will be visited by The Great  Pumpkin, while Charlie Brown is invited to a Halloween party. Cast members  include Peter Robbins (Charlie Brown) and Christopher Shea (Linus). The cast  also includes Sally Dryer as Lucy, Chris Doran as Schroeder, Bill Melendez as  Snoopy, Kathy Steinberg as Sally, Tracy Stratford as Violet and Ann Altieri as  Frieda.
8:30pm ET
"Toy Story Of TERROR!" – Disney·Pixar's first special for television, "Toy  Story OF TERROR!," a spooky new tale featuring all of your favorite characters  from the "Toy Story" films. What starts out as a fun road trip for the "Toy  Story" gang takes an unexpected turn for the worse when the trip detours to a  roadside motel. After one of the toys goes missing, the others find themselves  caught up in a mysterious sequence of events that must be solved before they all  suffer the same fate in this "Toy Story OF TERROR!" The cast of "Toy Story OF  TERROR!" includes Tom Hanks as Woody, Tim Allen as Buzz, Joan Cusack as Jessie,  Carl Weathers as Combat Carl/Combat Carl Jr., Timothy Dalton as Mr.  Pricklepants, Don Rickles as Mr. Potato Head, Wallace Shawn as Rex and Kristen  Schaal as Trixie.
Thursday, October 29, 2015
8:00pm ET
An encore presentation of "It's the Great Pumpkin, Charlie Brown" will air.