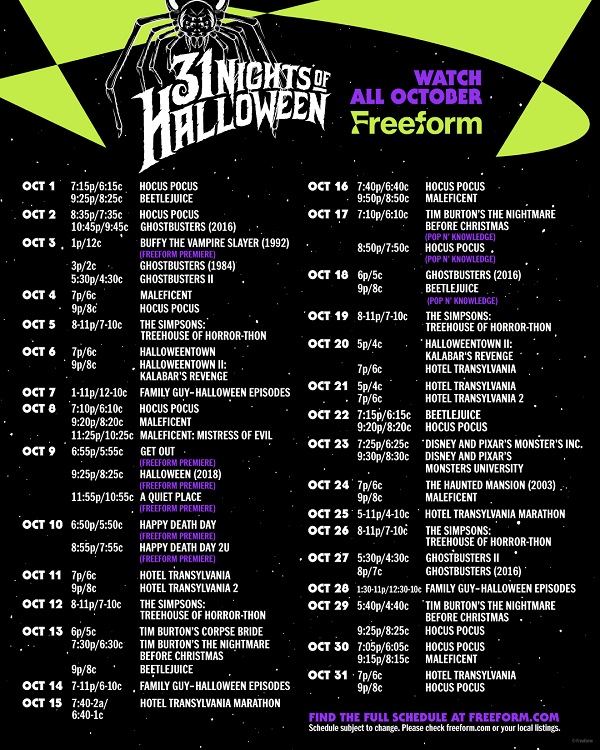 Who's ready to watch some devilishly spooky movies? Freeform's 31 Nights of Halloween begins Saturday, October 1st, and this year's line-up is more spook-tacular than ever. It's time to gather your coven and catch spell-binding entertainment all October long.
Freeform will be showing fright flicks from October 1st through October 31st, and this year's schedule includes a few surprising Freeform Premieres:

Jordan Peele's Get Out is part of the "31 Nights of Halloween" 2022 lineup, along with A Quiet Place, Happy Death Day, Happy Death Day 2U, and even Halloween 2018.
2022 Freeform 31 Nights of Halloween Schedule
All programming is subject to change. Times shown in Eastern.
Saturday, October 1, 2022
7:00am – Edward Scissorhands
9:10am – The Witches (1990)
11:20am – The Haunted Mansion
1:25pm – Tim Burton's A Nightmare Before Christmas
3:05pm – Hotel Transylvania
5:10pm – Hotel Transylvania 2
7:15pm – Hocus Pocus
9:25pm – Beetlejuice
11:30pm – Ghostbusters (1984)
Sunday, October 2, 2022
7:00am – The Witches (1990)
9:10am – Decorating Disney: Halloween Magic
10:10am – Halloweentown
12:15pm – Hotel Transylvania
2:20pm – Hotel Transylvania 2
4:25pm – Maleficent
6:30pm – Beetlejuice
8:35pm – Hocus Pocus
10:45pm – Ghostbusters (2016)
Monday, October 3, 2022
1:00pm – Buffy the Vampire Slayer (1992)
3:00pm – Ghostbusters (1984)
5:30pm – Ghostbusters II
8:00pm – Ghostbusters (2016)
Tuesday, October 4, 2022
11:30am – Ghostbusters (1984)
2:00pm – Ghostbusters II
4:30pm – Edward Scissorhands
7:00pm – Maleficent
9:00pm – Hocus Pocus
12:00am – Night at the Museum: Secret of the Tomb
Wednesday, October 5, 2022
12:00pm – Night at the Museum: Secret of the Tomb
2:00pm – Madagascar
4:00pm – Hotel Transylvania
6:00pm – Hotel Transylvania 2
8:00pm – The Simpsons: Treehouse Horror-thon
Thursday, October 6, 2022
11:00am – Madagascar
1:00pm – Hotel Transylvania
3:00pm – Hotel Transylvania 2
5:00pm – Shrek Forever After
7:00pm – Halloweentown
9:00pm – Halloweentown II: Kalabar's Revenge
Friday, October 7, 2022
10:30am – Scared Shrekless
11:00am – Shrek Ever After
1:00pm – Family Guy: Halloween Episode Marathon
Saturday, October 8, 2022
7:00am – Decorating Disney: Halloween Magic
8:00am – Hotel Transylvania 2
10:00am – Goosebumps 2: Haunted Halloween
12:05am – Ghostbusters (1984)
2:35pm – Ghostbusters II
5:05pm – Beetlejuice
7:10pm – Hocus Pocus
9:20pm – Maleficent
11:25pm – Maleficent: Mistress of Evil
Sunday, October 9, 2022
7:00am – Monsters vs. Aliens: Mutant Pumpkins
7:30am – Goosebumps 2: Haunted Halloween
9:35am – Ghostbusters (1984)
12:05am – Ghostbusters II
2:40pm – Beetlejuice
4:45pm – Hocus Pocus
6:55pm – Get Out
9:25pm – Halloween (2018)
11:55pm – A Quiet Place
Monday, October 10, 2022
11:30am – A Quiet Place
1:40pm – Get Out
4:15pm – Halloween (2018)
6:50pm – Happy Death Day
8:55pm – Happy Death Day 2U
Tuesday, October 11, 2022
12:30pm – Maleficent
2:30pm – The House with a Clock in its Walls
5:00pm – The Haunted Mansion (2003)
7:00pm – Hotel Transylvania
9:00pm – Hotel Transylvania 2
Wednesday, October 12, 2022
10:30am – The House with a Clock in its Walls
1:00pm – Hotel Transylvania
3:00pm – Hotel Transylvania 2
5:00pm – Ghostbusters (2016)
8:00pm – The Simpsons: Treehouse Horror-thon
Thursday, October 13, 2022
10:30pm – Frankenweenie (2012)
12:30pm – Edward Scissorhands
3:00pm – Miss Peregrine's Home for Peculiar Children
6:00pm – Tim Burton's Corpse Bride
7:30pm – Tim Burton's A Nightmare Before Christmas
9:00pm – Beetlejuice
12:00am – Tim Burton's Corpse Bride
Friday, October 14, 2022
5:00pm – Beetlejuice
7:00pm – Family Guy: Halloween Episode Marathon
Saturday, October 15, 2022
7:00am – Hook
10:15am – How to Train Your Dragon 2
12:25pm – Tim Burton's Corpse Bride
2:25pm – Toy Story of TERROR!
2:55pm – Scared Shrekless
3:25pm – Shrek Forever After
5:30pm – Hocus Pocus
7:40pm – Hotel Transylvania
9:45pm – Hotel Transylvania 2
11:50pm – Hotel Transylvania 3
Sunday, October 16, 2022
7:00am – How to Train Your Dragon 2
9:10am – Tim Burton's Corpse Bride
10:45am – Scared Shrekless
11:15am – Shrek Forever After
1:20pm – Hotel Transylvania
3:25pm – Hotel Transylvania 2
5:30pm – Hotel Transylvania 3: Summer Vacation
7:40pm – Hocus Pocus
9:50pm – Maleficent
11:55pm – The Witches
Monday, October 17, 2022
12:00pm – Ghostbusters (1984)
2:30pm – Ghostbusters II
5:05pm – The Haunted Mansion (2003)
7:10pm – Tim Burton's A Nightmare Before Christmas
8:50pm – Hocus Pocus
Tuesday, October 18, 2022
10:30am – Ghostbusters (1984)
1:00pm – Ghostbusters II
3:30pm – Fright Night (2011)
6:00pm – Ghostbusters (2016)
9:00pm – Beetlejuice
Wednesday, October 19, 2022
10:30am – Fright Night (2011)
1:00pm – Ghostbusters (2016)
4:00pm – Maleficent
6:00pm – Beetlejuice
8:00pm – The Simpsons: Treehouse Horror-thon
Thursday, October 20, 2022
11:00am – The Witches (1990)
1:00pm – Night at the Museum: Secret of the Tomb
3:00pm – Halloweentown
5:00pm – Halloweentown II: Kalabar's Revenge
7:00pm – Hotel Transylvania
9:00pm – Hotel Transylvania 2
12:00am – The Witches (1990)
Friday, October 21, 2022
5:00pm – Hotel Transylvania
7:00pm – Hotel Transylvania 2
12:00am – Buffy the Vampire Slayer (1992)
Saturday, October 22, 2022
7:00am – Buffy the Vampire Slayer (1992)
9:00am – Maleficent
11:00am – Ghostbusters (1984)
1:30pm – Ghostbusters II
4:00pm – Ghostbusters (2016)
7:15pm – Beetlejuice
9:20pm – Hocus Pocus
11:30pm – The House with a Clock in its Walls
Sunday, October 23, 2022
7:00am – The House with a Clock in its Walls
9:30am – Ghostbusters (1984)
12:00pm – Ghostbusters (2016)
3:10pm – Beetlejuice
5:15pm – Hocus Pocus
7:25pm – Monster's Inc.
9:30pm – Monster's University
Monday, October 24, 2022
12:00pm – Tim Burton's Corpse Bride
2:00pm – Miss Peregrine's Home for Peculiar Children
5:00pm – Shrek Forever After
7:00pm – The Haunted Mansion (2003)
9:00pm – Maleficent
Tuesday, October 25, 2022
10:30am – Tim Burton's Corpse Bride
12:00pm – Miss Peregrine's Home for Peculiar Children
3:00pm – Halloweentown
5:00pm – Hotel Transylvania Marathon
Wednesday, October 26, 2022
12:00pm – Halloweentown II: Kalabar's Revenge
2:00pm – Hotel Transylvania Marathon
8:00pm – The Simpsons: Treehouse Horror-thon
Thursday, October 27, 2022
11:00am – Ready or Not
1:00pm – Maleficent
3:00pm – Ghostbusters (1984)
5:30pm – Ghostbusters II
8:00pm – Ghostbusters (2016)
12:00am – Buffy the Vampire Slayer (1992)
Friday, October 28, 2022
10:30am – Ghostbusters (2016)
1:30pm – Family Guy: Halloween Episode Marathon
Saturday, October 29, 2022
7:00am – How to Train Your Dragon 2
9:10am – Edward Scissorhands
11:40am – Frankenweenie (2012)
1:40pm – Tim Burton's Corpse Bride
3:35pm – Goosebumps 2: Haunted Halloween
5:40pm – Tim Burton's A Nightmare Before Christmas
7:20pm – Hotel Transylvania
9:25pm – Hocus Pocus
11:35pm – Ghostbusters II
Sunday, October 30, 2022
7:00am – The Witches (1990)
9:05am – Tim Burton's Corpse Bride
10:45pm – Goosebumps 2: Haunted Halloween
12:50pm – The Haunted Mansion (2003)
2:55pm – Hotel Transylvania
5:00pm – Beetlejuice
7:05pm – Hocus Pocus
9:15pm – Maleficent
11:20pm – Maleficent: Mistress of Evil
Monday, October 31, 2022
10:30am – Ghostbusters (1984)
1:00pm – The Haunted Mansion (2003)
3:00pm – Beetlejuice
5:00pm – Maleficent
7:00pm – Hotel Transylvania
9:00pm – Hocus Pocus