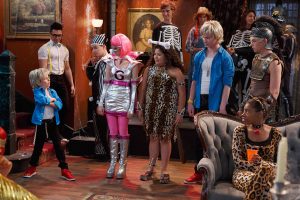 It's the spookiest time of the year and Disney Channel is celebrating with "Monstober" – a bone-chilling month dedicated to Halloween-themed episodes, movies, games and new series premieres, beginning Friday, October 5, 2012.
Haunting highlights include Halloween-themed season two premieres of "Jessie" and "Austin & Ally," the premiere of the Disney Channel Original Movie "Girl Vs. Monster," the return of mutants in "A.N.T. Farm," a fiendish trick-or-treating monster invading on "Gravity Falls," baby Toby's first Halloween in "Good Luck Charlie," a creepy doll in "Fish Hooks," a marathon of "My Babysitter's a Vampire" and fan-favorite movies, including "Hocus Pocus," "Twitches," "Monsters, Inc" and more.
Halloween episodes to air during "Monstober" include:
Friday, October 5, 2012
8:00-8:30 p.m. ET/PT – "A.N.T. FARM" – Episode: mutA.N.T. Farm 2
Chyna Parks returns to the mutA.N.T. Program, where monsters like Chyna go to school with normal high school students. When Chyna soon develops a forbidden crush on a cute human boy named Brady, she pretends to be human in order to spend quality time with him. Things unravel when Lexi, who also has a crush on Brady, exposes Chyna's mutant origin. Meanwhile, Olive clones herself to be in two places at once, but when her Igor-like assistant Violet accidentally lets the clone loose, it wreaks havoc on the school.
8:30-9:00 p.m. ET/PT – "JESSIE" – Episode: The Whining
The Ross kids become concerned that history is repeating itself after a scary old doorman tells them a building legend about a nanny who did "something terrible" to the kids in her care on Halloween. Meanwhile, Jessie and Tony work together to crash an exclusive Halloween party so Jessie can give her short story to a famous magazine editor.
9:00-9:30 p.m. ET/PT – "GRAVITY FALLS" – Episode: Summerween
It's Gravity Falls' version of Halloween in Summer with Jack-o-Melons and lots of trick-or-treating. Dipper and Mabel are excited to join in on the fun, but when Wendy casually mentions that trick-or-treating is for kids, Dipper's whole outlook on the evening changes. The night gets even more complicated when a monster that Dipper accidentally insulted makes them fulfill his candy quota by night's end or else he will eat them.
9:30-9:45 p.m. ET/PT – "FISH HOOKS" – Episode: Unfinished Doll Business
When Bea's childhood doll resurfaces, Bea realizes how creepy the doll was and pawns it off on Milo and Oscar. But no matter what she does to try and rid herself of the doll, it keeps magically reappearing and haunting her.
9:45-10:00 p.m. ET/PT – "Chicks Dig Vampires"
Albert has a crush on Esmargot and comes up with a plan to act and live like a vampire to win her affections. Unbeknownst to Albert however, Esmargot is a secret vampire slayer set out to rid the world of all vampires. ET/PT.
Sunday, October 7, 2012
8:00-8:30 p.m., ET/PT – "GOOD LUCK CHARLIE" – Episode: Le Halloween
Amy dresses up like a kangaroo for Halloween, complete with a baby pouch for Toby and Charlie, while Bob goes in his exterminator uniform, going by the name Captain Extermo. Amy thinks Bob's costume is not spirited enough until she realizes she needs his help when a bat gets stuck in their home. Meanwhile, Teddy and Spencer try and celebrate their one-year anniversary, while Gabe gets tricked by Mrs. Dabney into attending a ceremony in honor of her charitable work.
8:30-9:00 p.m. ET/PT – "AUSTIN & ALLY" – Episode: Costumes & Courage
Austin's new record label owner, Jimmy Starr, invites him to perform at the Starr Records Halloween party, where he will perform a duet with famous musician to Ally's new song. However, when Dez and Trish's ghost-hunting mission goes awry, the musician is unable to perform and Ally steps in to save the day.
Friday, October 12, 2012
8:00-9:30 p.m., ET/PT – "GIRL VS. MONSTER"
The adventure begins on Halloween as Skylar, a fearless teenager with a powerful singing voice, prepares for the ultimate Halloween bash with her best friends Henry and Sadie. However, the plan for Skylar to sing at the party – with rock band cutie Ryan Dean – is crushed when her parents make her stay home. But when she sneaks out of the house, she unknowingly unleashes a monster – Deimata – who is determined to change the fate of Skylar and her family forever. As Skylar's world is turned upside down, she learns that her parents have been keeping a big secret – that she comes from a long line of monster hunters. Now it's up to Skylar and her friends to channel their inner strength and conquer more than just this monster.
Affiliate Disclosure:
Please note – we do use affiliate links on this site. This means we might earn a small commission if you click on a link and/or buy something. Both the product links and ads displayed help pay to keep this website running so that I can continue to offer schedule updates.
Thank you very much for your support (and for tolerating the ads) - I appreciate it!