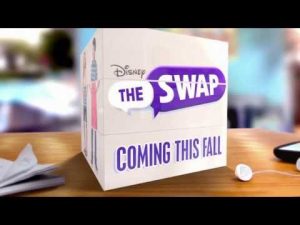 "The Swap" will premiere on Disney Channel on October 7, 2016, as a part of the network's annual "Monstober" event.
Peyton List (Disney Channel's "BUNK'D") and Jacob Bertrand (Disney XD's "Kirby Buckets") star in the upcoming Disney Channel Original Movie "The Swap," premiering Friday, October 7th at 8:00pm ET across Disney Channel's multiple platforms including Disney Channel, the Disney Channel app and VOD. Part of Disney Channel's Halloween-themed "Monstober" programming event, "The Swap" is a comedy adventure that follows two teens on a quest to reverse a mysterious event that caused them to swap lives.
Ellie O'Brien (List) is trying to juggle rhythmic gymnastics and troubles with her best friend. Meanwhile, classmate Jack Malloy (Bertrand) is struggling to live up to his brothers' hockey-star legacies and his dad's high expectations and tough-love approach. When a text argument about whose life is easier gets out of hand, Ellie and Jack trigger an unexplainable real-life swap. As each tries to navigate the other's life, hilarity ensues when Ellie (as Jack) learns about brotherly bonding and hockey lingo, while Jack (as Ellie) has to decipher girl code and experiences a spa day. With a rhythmic gymnastics championship and a spot on the varsity hockey team on the line, they must figure out how to get back in their own bodies before the swap becomes permanent. As they are forced to literally walk in each other's shoes, they gain empathy for one another and learn valuable lessons about their own lives.
The Disney Channel Original Movie also stars Claire Rankin as Ellie's mom Summer; Darrin Rose as Jack's dad, "Coach" Malloy; Callan Potter and Jesse Bostick as Jack's brothers, Gunner and Stryker, respectively; Kiana Madeira as Sassy Gaines; Eliana Jones as Aspen Bishop; Devyn Nekoda as Mackenzie Wick; Kolton Stewart as Owen; and James Godfrey as Porter Gibbs.