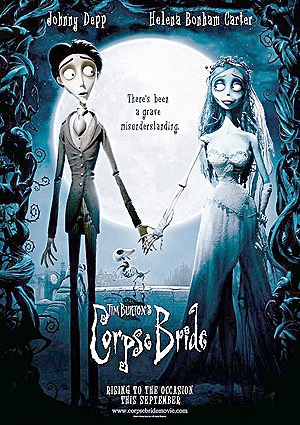 Movie Summary
When a shy groom practices his wedding vows in the inadvertent presence of a deceased young woman, she rises from the grave assuming he has married her.
This movie normally airs in October as part of Freeform Channels 31 Nights of Halloween.
Is it available to purchase or rent?
Yes.

2022 Dates, Times, and Channels
10/09/22 – 7:00pm on Disney Channel
10/13/22 – 6:00pm on Freeform
10/13/22 – 11:59pm on Freeform
10/15/22 – 12:25pm on Freeform
10/16/22 – 9:10am on Freeform
10/24/22 – 12:00pm on Freeform
10/25/22 – 10:30am on Freeform
10/29/22 – 1:40pm on Freeform
10/30/22 – 9:05am on Freeform
This movie normally airs throughout the holiday season on the Freeform Channel. For a complete schedule of dates and times, please click here.
Year Released
2005
Cast Includes
Johnny Depp (Victor Van Dort), Helena Bonham Carter (Corpse Bride), Emily Watson (Victoria Everglot), Tracey Ullman (Hildegarde), Albert Finney (Finis Everglot), Joanna Lumley (Maudeline Everglot), Christopher Lee (Pastor Galswells), Paul Whitehouse (Mayhew), Richard E. Grant (Barkis Bittern), Michael Gough (Elder Gutknecht)
Rate Movie:
Movie Trailer