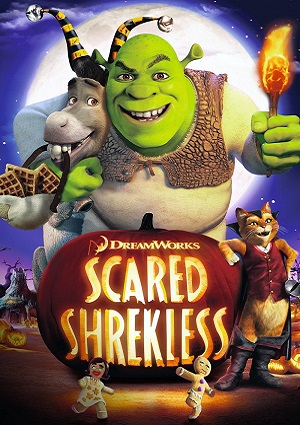 Movie Summary
Shrek gets in the Halloween spirit by challenging his fairytale friends to come up with scary stories for a contest. But the gang learns that they will have to spend the night in Lord Farquaad's haunted castle before the winner is named.
Scared Shrekless originally premiered on NBC October 28, 2010.
Is Scared Shrekless available to purchase or rent?
No
Is Scared Shrekless available to buy on DVD?
Yes

When will Scared Shrekless air on TV in 2023?
10/01/23 – 10:10am on Freeform
10/07/23 – 11:00am on Freeform
10/08/23 – 7:00am on Freeform
10/29/23 – 1:00pm on Freeform
This movie normally airs throughout the holiday season on the Freeform Channel. For a complete schedule of dates and times, view Freeform 31 Nights of Halloween schedule.
Year Released
2010
Cast Includes
Mike Myers (Shrek), Cameron Diaz (Princess Fiona), Antonio Banderas (Puss in Boots), Kristen Schaal (Sugar), Dean Edwards (Donkey), Cody Cameron (Pinocchio, Three Pigs), Christopher Knights (Blind Mice), Conrad Vernon (Gingerbread Man, Muffin Man), Aron Warner (Wolf)
Rate Movie:
Scared Shrekless Movie Trailer
Affiliate Disclosure:
Please note – we do use affiliate links on this site. This means we might earn a small commission if you click on a link and/or buy something. Both the product links and ads displayed help pay to keep this website running so that I can continue to offer schedule updates.
Thank you very much for your support (and for tolerating the ads) - I appreciate it!