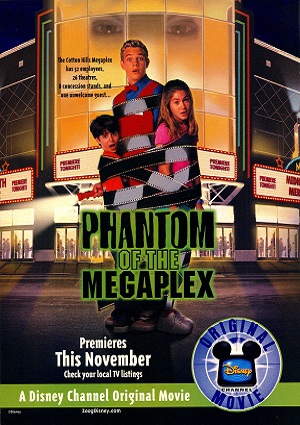 Movie Summary
17-year-old Pete Riley works as the assistant manager at the local 26-screen grand megaplex, a job that he loves and spends the majority of his time at. Rumor has it that the megaplex is haunted by a "phantom", someone who was trapped inside the old movie theater that was demolished to build the current megaplex.
This movie normally airs in October as part of Disney Channel's Monstober.
Is it available to purchase or rent?
Yes.

Also available to watch on Disney+
2022 Dates, Times, and Channels
Not airing this week
Year Released
2000
Cast Includes
Taylor Handley (Pete Riley), Corinne Bohrer (Julie Riley), Caitlin Wachs (Karen Riley), Jacob Smith (Brian Riley), Mickey Rooney (Movie Mason), Rich Hutchman (Shawn MacGibbon), John Novak (George), Colin Fox (Nedermayer), Ricky Mabe (Ricky), Julia Chantrey (Terri)
Rate Movie:
Movie Trailer