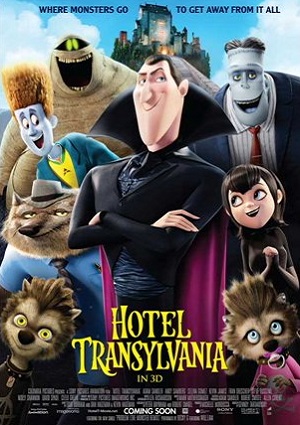 Movie Summary
Dracula operates a high-end resort away from the human world for all of his monster friends. He goes into overprotective mode when a human boy discovers the resort and falls for the count's teen-aged daughter.
Hotel Transylvania was originally released in theaters September 28, 2012.
Is Hotel Transylvania available to purchase or rent?
Yes, Hotel Transylvania is available to stream on the following platforms:

Is Hotel Transylvania available to buy on DVD?
Yes

When will Hotel Transylvania air on TV in 2023?
10/01/23 – 8:45pm on Freeform
10/02/23 – 7:00pm on Freeform
10/07/23 – 3:10pm on Freeform
10/08/23 – 12:00pm on Freeform
10/12/23 – 7:00pm on Freeform
10/13/23 – 2:35pm on Freeform
10/14/23 – 10:55pm on Freeform
10/15/23 – 4:20pm on Freeform
10/17/23 – 7:00pm on Freeform
10/18/23 – 5:00pm on Freeform
10/21/23 – 7:15pm on Freeform
10/22/23 – 3:20pm on Freeform
10/23/23 – 6:45pm on Freeform
10/24/23 – 4:00pm on Freeform
10/28/23 – 11:55pm on Freeform
10/29/23 – 5:15pm on Freeform
10/30/23 – 7:00pm on Freeform
10/31/23 – 4:35pm on Freeform
This movie normally airs throughout the holiday season on Freeform. For a complete schedule of dates and times, view Freeform 31 Nights of Halloween schedule.
Year Released
2012
Cast Includes
Adam Sandler (Dracula), Selena Gomez (Mavis), Steve Buscemi (Wayne), Andy Samberg (Jonathan), Kevin James (Frankenstein), David Spade (Griffin), Fran Drescher (Eunice), Jon Lovitz (Quasimodo), Molly Shannon (Wanda)
Rate Movie:
Hotel Transylvania Movie Trailer
Affiliate Disclosure:
Please note – we do use affiliate links on this site. This means we might earn a small commission if you click on a link and/or buy something. Both the product links and ads displayed help pay to keep this website running so that I can continue to offer schedule updates.
Thank you very much for your support (and for tolerating the ads) - I appreciate it!