Halloween H20: 20 Years Later (1998)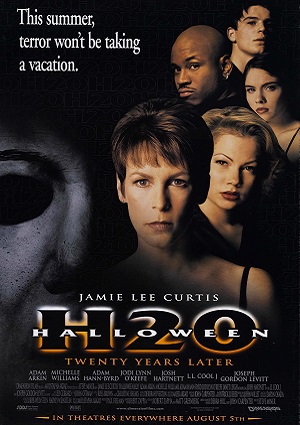 Movie Summary
Two decades after surviving a massacre on October 31, 1978, former babysitter Laurie Strode finds herself hunted by persistent knife-wielder Michael Myers. Laurie now lives in Northern California under an assumed name, where she works as the headmistress of a private school. But it's not far enough to escape Myers, who soon discovers her whereabouts.
Is it available to purchase or rent?
Yes

2022 Dates, Times, and Channels
10/01/22 – 10:00pm on AMC
10/02/22 – 4:00pm on AMC
10/13/22 – 8:00pm on AMC
10/14/22 – 6:00pm on AMC
10/15/22 – 1:16am on AMC
10/17/22 – 8:00pm on AMC
10/18/22 – 6:00pm on AMC
10/30/22 – 3:57pm on AMC
10/31/22 – 7:00pm on AMC
11/01/22 – 1:00am on AMC
This movie normally airs throughout the holiday season on the AMC Channel. For a complete schedule of dates and times, please click here.
Year Released
1998
Cast Includes
Jamie Lee Curtis (Laurie Strode), Josh Hartnett (John), Adam Arkin (Will Brennan), Michelle Williams (Molly), Adam Hann-Byrd (Charlie), Jodi Lyn O'Keefe (Sarah), Janet Leigh (Norma), LL Cool J (Ronny), Joseph Gordon-Levitt (Jimmy), Nancy Stephens (Marion)
Rate Movie:
Movie Trailer