Halloween 5: The Revenge of Michael Myers (1989)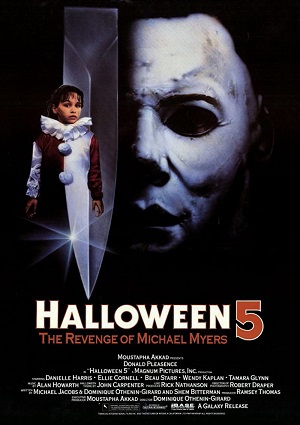 Movie Summary
After lying in a coma for a year, Michael Myers awakens and stalks his way back to his small hometown in Illinois, intent on killing his niece, Jamie, who has been confined to a mental institution since Michael's last attempt to slay her.
Is it available to purchase or rent?
Yes

2022 Dates, Times, and Channels
10/01/22 – 6:00pm on AMC
10/02/22 – 12:00pm on AMC
10/14/22 – 2:00pm on AMC
10/15/22 – 11:30am on AMC
10/30/22 – 11:57am on AMC
10/31/22 – 5:00pm on AMC
This movie normally airs throughout the holiday season on the AMC Channel. For a complete schedule of dates and times, please click here.
Year Released
1989
Cast Includes
Donald Pleasence (Loomis), Danielle Harris (Jamie), Ellie Cornell (Rachel), Beau Starr (Sheriff Ben Meeker), Tamara Glynn (Samantha Thomas), Jonathan Chapin (Mikey), Matthew Walker (Spitz), Wendy Kaplan (Tina Williams), Troy Evans (Deputy Charlie)
Rate Movie:
Movie Trailer