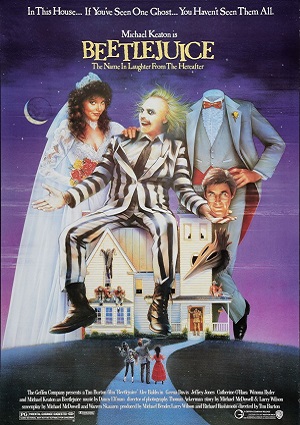 Movie Summary
After Barbara and Adam Maitland die in a car accident, they find themselves stuck haunting their country residence, unable to leave the house. When the unbearable Deetzes and teen daughter Lydia buy the home, the Maitlands attempt to scare them away without success. Their efforts attract Beetlejuice, a rambunctious spirit whose "help" quickly becomes dangerous for the Maitlands and innocent Lydia.
Is it available to purchase or rent?
Yes.

2022 Dates, Times, and Channels
10/01/22 – 9:25pm on Freeform
10/02/22 – 6:30pm on Freeform
10/08/22 – 5:05pm on Freeform
10/09/22 – 2:40pm on Freeform
10/13/22 – 9:00pm on Freeform
10/14/22 – 5:00pm on Freeform
10/18/22 – 9:00pm on Freeform
10/19/22 – 6:00pm on Freeform
10/22/22 – 7:15pm on Freeform
10/23/22 – 3:10pm on Freeform
10/30/22 – 5:00pm on Freeform
10/31/22 – 3:00pm on Freeform
This movie normally airs throughout the holiday season on the Freeform Channel. For a complete schedule of dates and times, please click here.
Year Released
1988
Cast Includes
Alec Baldwin (Adam), Geena Davis (Barbara), Michael Keaton (Betelgeuse), Catherine O'Hara (Delia), Winona Ryder (Lydia), Jeffrey Jones (Charles), Annie McEnroe (Jane Butterfield), Hugo Stanger (Old Bill), Glenn Shadix (Otho), Sylvia Sidney (Juno)
Rate Movie:
Movie Trailer