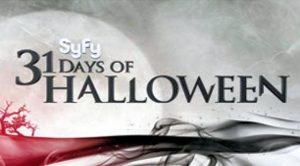 Syfy Channel's 7th annual "31 Days of Halloween" will return on Wednesday, October 1st 2014 at 8:00pm and will run through Friday, October 31st!
This years "31 Days of Halloween" will unleash nearly 600 hours of bloodcurdling programming featuring the 10th anniversary Ghost Hunters special, the Original Movies Dark Haul and Finders Keepers, and a wide array of spine-tingling theatricals including Texas Chainsaw Massacre (2003 remake) and The Reaping.
TOWN OF THE LIVING DEAD (SERIES PREMIERE)

Premieres Tuesday, October 7, 2014 at 10pm… The colorful folks of Jasper, Alabama are determined, once and for all, to complete their zombie movie, Thr33 Days Dead… now six long years in the making. Based on a town urban legend, their film centers on a group of friends trying to survive a zombie apocalypse in rural Alabama. The series will follow the intrepid and motley crew of amateur filmmakers as they struggle against every obstacle imaginable to get to a final cut of their film…which could someday become a Syfy movie.

GHOST HUNTERS (SEASON 10 RETURN)

Returns Wednesday, October 8, 2014 at 9pm… This October, Syfy's longest-running unscripted series, Ghost Hunters, celebrates two landmark events: Its 10th anniversary and its 200th episode. In the 10th anniversary episode, airing October 8th, the TAPS (The Atlantic Paranormal Society) team traveling to Brunswick, GA's Old City Hall to investigate claims of paranormal activity said to be sparked by a 19th century shooting death. On Wednesday, October 22nd, Ghost Hunters marks the occasion of their 200th episode with a two-hour episode that has TAPS returning to one of their favorite haunted locations – the Trans-Allegheny Lunatic Asylum in Weston, WV. Additional new Ghost Hunters episodes airing in October take place at: Elizabeth V. Edwards Elementary School in Barnegat, NJ and the historic Clay County Courthouse in Green Cove Springs, FL (airing October 15th); and Ohio's Cincinnati Music Hall (October 29th).

DARK HAUL (ORIGINAL MOVIE PREMIERE)

Premieres October… A team of secretive guardians transport a deadly creature and its half-human sister to a secure location, but the beast escapes and threatens to fulfill a prophecy – by destroying the world. Dark Haul stars Tom Sizemore (Saving Private Ryan, Black Hawk Down), Rick Ravanello (The Cave, Hart's War) and Evalena Marie (Remains, Serena and the Ratts).

FINDERS KEEPERS (ORIGINAL MOVIE PREMIERE)

Premieres October… A child becomes obsessed with an evil doll left behind by the previous occupants of her new home. Finders Keepers stars Jaime Pressly (My Name is Earl, Two and a Half Men).
Check back soon for the full schedule.