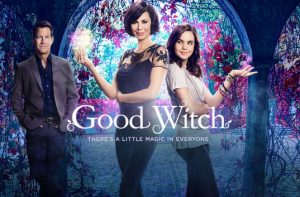 Production has begun in Toronto, ON, Canada on a two-hour,Halloween special event installment of Hallmark Channel's highest-rated original series, "Good Witch." Based on the wildly popular "The Good Witch" movie franchise, which is the most successful in the network's history, the series stars Catherine Bell ("Army Wives," "JAG"), Bailee Madison ("Northpole: Open for Christmas," Just Go with It, Trophy Wife) and James Denton ("Desperate Housewives," "Devious Maids"). Production on season three will commence Monday, September 12.
"'Good Witch' is an annual Halloween tradition and a cornerstone of Hallmark Channel's success," said Michelle Vicary, Executive Vice President, Programming and Network Publicity, Crown Media Family Networks. "What began as the network's highest-rated movie franchise has become a powerhouse, routinely ranking among the top 5 original cable TV series on Sunday nights."
In the special, Cassie (Bell) welcomes a popular fantasy author and her editor to Grey House. Before long, Cassie inspires her to hold the launch party for her latest book right there in Middleton, which shares mysterious and surprising similarities with her stories. Work begins to transform Middleton into the book's Halloween-inspired setting of Tarynsville but when the event is threatened, Cassie must conjure up a way to save the day – all the while helping the author and editor find a long-simmering love. Meanwhile, a medical emergency keeps Sam (Denton) busy at the hospital and away from Cassie until a surprise patient brings them closer than ever.