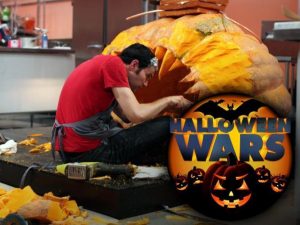 On Sunday, September 30th at 8pm ET/PT, viewers get a behind the scenes look at the weeks and months leading up to the best pumpkin carvers, cake and sugar artists entering the Halloween Wars kitchen, on Road to Halloween Wars. Year round, these gleefully ghoulish geniuses work to hone their craft, with dreams of supreme victory. From points near and far around the globe, find out who has what it takes to be chosen to compete in the new season of Halloween Wars, which premieres on Sunday, September 30th at 9pm ET/PT.
Jonathan Bennett returns to host as six teams each made up of an expert pumpkin carver, a cake artist, and a sugar master battle it out over five episodes to create Halloween-themed edible displays that are as scary as they are delicious. Each teams' creations are judged by award-winning cake decorator Shinmin Li, horror film special effects master Todd Tucker, and a rotating panel of celebrity guest judges, including movie director Mick Garris, Gaten Matarazzo (Stranger Things), and more, to determine which team takes home the grand prize of $50,000!
And don't miss Halloween Wars: Even More Monstrous Scares, premiering Sunday, September 30th at 10pm ET/PT. Each Halloween for nearly a decade, the world's greatest pumpkin carvers, cake and sugar artists have joined forces to bring to life the most mind-blowing and terrifying Halloween creations imaginable, as they compete for the grand prize. It's time to dig up even more of the creepiest ghosts, scariest witches, werewolves, yummiest treats, and most mind-blowing displays in the history of Halloween Wars.