2012 Schedule for the 31 Days of Halloween on the Syfy channel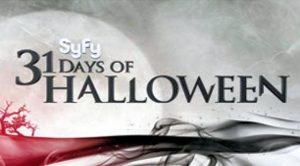 In addition to the below, Syfy will also be playing the Boogeyman, Children of the Corn and other horror flicks as part of their 31 Days of Halloween Movies. Dozens of episodes of Scare Tactics, Ghost Hunters, and Ghost Whisperer will also air during the month of October.
Schedule subject to change. Times shown are in Eastern.
Tuesday, October 2, 2012
Wednesday, October 3, 2012
1:00am – The Prophecy
3:00am – Prophecy: The Uprising
Thursday, October 4, 2012
8:30am – Serenity
11:00am – Star Trek III
1:30pm – Star Trek V
4:00pm – Star Trek IV
6:30pm – Star Trek VI
9:00pm – Star Trek VIII
11:30pm – Star Trek VI
Friday, October 5, 2012
2:00am – Star Trek VIII
10:00am – Swarmed
12:00pm – Infestation
4:00pm – Camel Spiders
6:00pm – Mimic 2
Saturday, October 6, 2012
2:00am – The Messengers
4:00am – Husk
9:00am – Open Graves
11:00am – The Cursed
3:00pm – One Missed Call
5:00pm – Stigmata
7:00pm – Queen Of The Damned
9:00pm – Primal
Sunday, October 7, 2012
3:00am – Growth
12:30pm – The Hills have Eyes 2
2:30pm – Queen Of The Damned
4:30pm – Blade II
7:00pm – Primal
9:00pm – Wrong Turn 4
11:00pm – Leprechaun
Monday, October 8, 2012
1:00am – Leprechaun 2
8:00am – Sea Snakes
6:00pm – Anaconda
11:00pm – Anaconda
Thursday, October 11, 2012
1:00am – The Dunwich Horror
3:00am – Clive Barker's Book of Blood
3:00pm – My Bloody Valentine
5:00pm – Hannibal
8:00pm – Shutter Island
11:00pm – The Skeleton Key
Friday, October 12, 2012
1:00am – Wes Craven Presents: They
3:00am – They Wait
8:00am – The Seamstress
10:00am – Timber Falls
12:00pm – P2
2:00pm – Hannibal
5:00pm – Shutter Island
Saturday, October 13, 2012
1:00am – The Hills have Eyes 2
3:00am – Toolbox Murders
9:00am – The Haunting In Connecticut
11:00am – The Amityville Horror (2005)
1:00pm – The Amityville Horror (1979)
11:00pm – The Amityville Horror (1979)
Sunday, October 14, 2012
3:00am – 100 Feet
9:30am – The Messengers
1:30pm – The Village
4:00pm – The Devil's Advocate
7:00pm – Jeepers Creepers 2
9:00pm – The Mist
Monday, October 15, 2012
9:30am – The Village
12:00pm – The Devil's Advocate
3:00pm – Blade II
5:30pm – The Mist
11:00pm – Blade II
Tuesday, October 16, 2012
Thursday, October 18, 2012
9:00am – Stir of Echoes: The Homecoming
11:00am – Furnace
5:00pm – Jeepers Creepers 2
7:00pm – One Missed Call
9:00pm – Thir13en Ghosts
Friday, October 19, 2012
1:00am – Seconds Apart
3:00am – The Task
8:00am – Jack Brooks Monster Slayer
10:00am – Jeepers Creepers 2
12:00pm – One Missed Call
2:00pm – Thir13en Ghosts
4:00pm – From Dusk Till Dawn 2
6:00pm – From Dusk Till Dawn 3
Saturday, October 20, 2012
1:00am – From Dusk Till Dawn 2
3:00am – From Dusk Till Dawn 3
9:00am – Dark Prince: The True Story of Dracula
11:00am – Prowl
1:00pm – Cirque Du Freak: The Vampire's Assistant
3:00pm – 30 Days of Night: Dark Days
5:00pm – Stake Land
7:00pm – Daybreakers
9:00pm – Underworld: Rise of the Lycans
11:00pm – Stake Land
Sunday, October 21, 2012
1:00am – Wolvesbayne
3:00am – Skinwalkers
9:00am – War Wolves
1:00pm – An American Werewolf In London
3:00pm – Daybreakers
5:00pm – Underworld: Rise of the Lycans
7:00pm – Queen Of The Damned
9:00pm – Blade II
11:30pm – Stigmata
Tuesday, October 23, 2012
Wednesday, October 24, 2012
3:00am – The Haunting In Connecticut
Thursday, October 25, 2012
1:00am – From Dusk Till Dawn 2
3:00am – From Dusk Till Dawn 3
11:00am – The Pumpkin Karver
5:00pm – Nightmare On Elm Street 2
7:00pm – Nightmare On Elm Street 5
9:00pm – The Mist
11:30pm – Saw III
Friday, October 26, 2012
2:00am – Saw IV
4:00am – Saw V
9:30am – Nightmare On Elm Street 2
11:30am – Nightmare On Elm Street 5
1:30pm – Saw IV
3:30pm – Saw V
5:30pm – The Mist
Saturday, October 27, 2012
10:30am – Planet Terror
12:30pm – From Dusk Till Dawn 2
2:30pm – From Dusk Till Dawn 3
4:30pm – Dawn Of The Dead
11:00pm – Dawn Of The Dead
Sunday, October 28, 2012
3:00am – The Pumpkin Karver
9:00am – From Dusk Till Dawn 2
11:00am – From Dusk Till Dawn 3
1:00pm – Thir13en Ghosts
3:00pm – Nightmare On Elm Street 2
5:00pm – Nightmare On Elm Street 5
7:00pm – Halloween H2O
9:00pm – Pulse
11:00pm – Feardotcom
Monday, October 29, 2012
1:00am – Stigmata
9:00am – The Amityville Horror (2005)
11:00am – Nightmare On Elm Street 2
1:00pm – Nightmare On Elm Street 5
3:00pm – Halloween H2O
5:00pm – Pulse
Tuesday, October 30, 2012
Wednesday, October 31, 2012
1:00am – Halloween H2O
3:00am – Halloween: The Curse of Michael Myers